Senior Federal Health Official Visits ACCESS Northwest to Discuss Increased Need for Community Care in Suburbs
August 7, 2020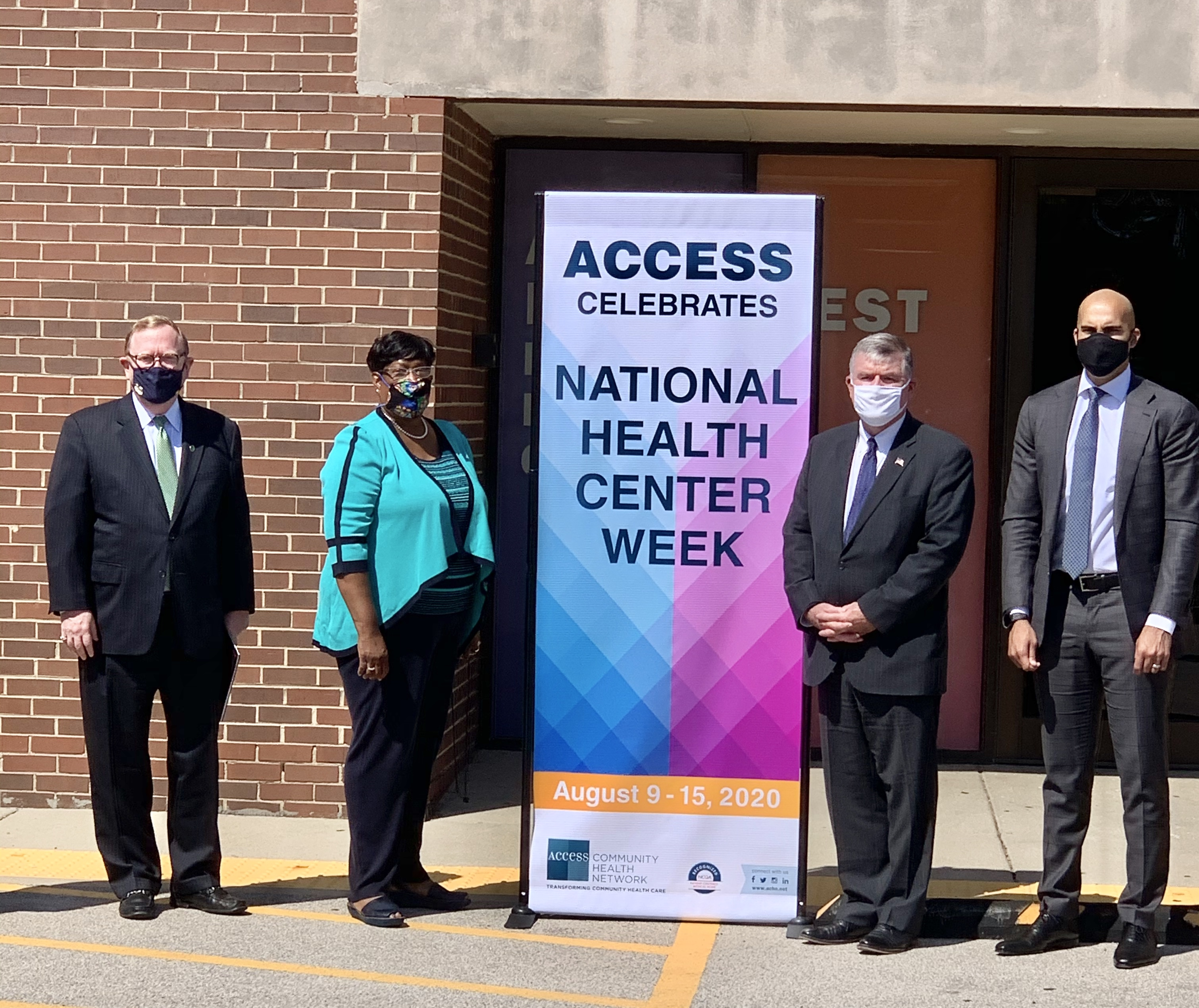 ARLINGTON HEIGHTS, IL – In honor of the start of National Health Center Week, Thomas Engels, administrator of the Health Resources and Services Administration (HRSA) came to Arlington Heights today to visit ACCESS Northwest Family Health Center.
After visiting with ACCESS in July, the administrator returned to hold a roundtable discussion with Access Community Health Network (ACCESS) CEO Donna Thompson, Illinois Primary Health Care Association CEO Jordan Powell, and the U.S. Health and Human Services Regional Director Douglas O'Brien. The discussion centered around how community health centers are serving on the front lines of the COVID-19 response, as well as how health centers continue to expand into suburban markets to meet the changing needs due to shifts in poverty and demographics.
Health centers are community-based organizations that deliver primary health care to medically underserved communities and vulnerable populations. They provide services regardless of patients' ability to pay and charge on a sliding scale. Nationwide, there are nearly 1,400 health centers funded by the federal government, including 45 health centers across Illinois that serve more than 636,600 patients each year.
"As we kick off National Health Center Week, we are proud to share with HRSA the vital role that Illinois community health centers continue to play during this pandemic," said Illinois Primary Health Care Association CEO Jordan Powell. "It is great to see this strong support for community health centers on the federal level. This partnership will make the COVID response at the local level much more effective."
Since March, health centers have had to add a new facet to their work: serving on the front lines of the COVID-19 pandemic response. HRSA says it has awarded more than $2 billion to support community health centers' COVID-19 efforts. That funding includes approximately $80.5 million to health centers in Illinois alone. With the funding, health centers are purchasing PPE, providing virus testing, and enhancing telehealth services.
"Throughout this pandemic, our goal has been to continue to be there for our patients and help stop the spread of this deadly virus in our communities," said ACCESS CEO Donna Thompson. "That's why we have worked hard to innovate our care model through telehealth services, custom-designed COVID-19 testing sites and worked closely with local and state officials to advocate for our patient population."
According to HRSA, health centers across the nation have already provided about two million COVID-19 tests. As of last week, more than 90% of HRSA-funded health centers reported testing patients, with nearly 80% offering walk-up or drive-up testing. Specifically, in Illinois, of those centers who have responded to a HRSA survey, 97% of centers have walk-up and/or drive-up testing capacity.
ACCESS currently offers testing for anyone age 2 and older, regardless of symptoms at five dedicated COVID-19 testing sites and testing for asymptomatic patients at all its health centers located throughout Cook and DuPage counties. For more information on ACCESS, please visit achn.net. You can locate a HRSA funded health center near you at findahealthcenter.hrsa.gov.