ACCESS' Commitment to its Communities
By Elaine Hegwood Bowen, M.S.J., ACCESS Media Relations Specialist
September 2, 2015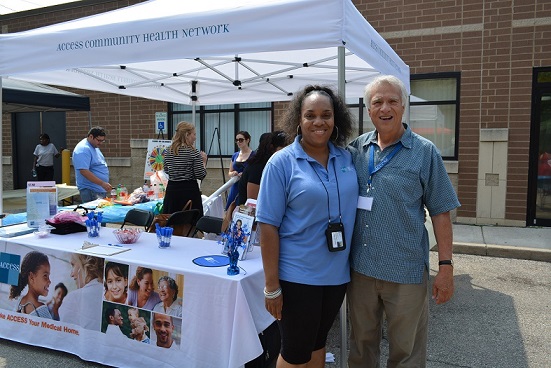 Although health centers play vital roles in their neighborhoods, ACCESS believes it is equally important to work "beyond its walls" to promote health and wellness in the community through collaboration with local residents, businesses and services to improve the neighborhoods where patients live, work and play.
Shari McKinley, ACCESS Community Engagement Supervisor, explains that ACCESS works hard to address the differing needs of each neighborhood by "looking at each community through a unique lens and continually engaging and working with key stakeholders and residents in each community."
She believes that ACCESS has experienced the greatest success engaging with the community by working with "a wide range of community partners that share ACCESS' mission and vision for healthier communities." ACCESS works with these organizations by linking their clients to health care programs and services at ACCESS health centers, as well as assisting with benefits and health insurance enrollment via the Affordable Care Act.
In collaboration with its partners, ACCESS recently hosted summer community health fairs at its health center locations. These health fairs provide a place for parents and children to obtain physicals and health screenings – ranging from diabetes to anxiety and depression – and receive information about valuable community resources, while also enjoying entertainment, games, food and access to school supplies.​
McKinley explains that ACCESS' efforts to promote community health education and awareness extend far past the summer months. "In Chicago, relationships are key. We work hard to maintain and expand our community relationships year-round so we can always have a visible presence in the communities we serve. With state resources continuing to dwindle, we only see more need for our programs and services, and we are committed to always doing what we can to help meet those demands to improve the health and wellness of our communities."
Learn more about how ACCESS is investing in the community. To stay up to date on ACCESS news and events, follow us on Facebook and Twitter.