ACCESS Educates Community on Lead Exposure
By Elaine Hegwood Bowen, M.S.J., ACCESS Media Relations Specialist
May 9, 2016
Access Community Health Network Kicks off Community Learning Series
at New ACCESS Center for Discovery and Learning in Englewood
Access Community Health Network (ACCESS) is working to help protect children from the dangerous health effects of lead exposure – and to address the health disparities that persist in many Chicago communities.
The ACCESS Center for Discovery and Learning kicked off the first of its Community Learning Series events recently, with a program that focused on lead exposure and ways to prevent it. The event included an expert panel, including Dr. Helen Binns of Northwestern University's Feinberg School of Medicine; Dr. Cortland Lohff of the Chicago Department of Public Health and Dr. Pamela Phoenix of the community group Imagine Englewood If.
The speakers provided event attendees with practical information about lead exposure, including how to identify sources of lead exposure, how it affects health, ways to prevent exposure and community resources. Participants were provided with free lead testing kits.
"Lead exposure hurts long-term health and development, especially among children," said Dani Lazar, ACCESS Director of Research. "By providing community residents with the tools and resources to identify and address lead in their homes, we hope to prevent the damage that lead poisoning can cause, and give patients resources for education and care."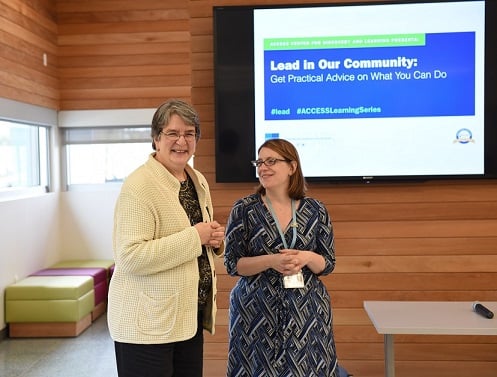 ACCESS' Director of Research Dani Lazar, Drs. Helen Binns, Pamela Phoenix and Cortland Lohff.
ACCESS' Center for Discovery and Learning is located adjacent to ACCESS Ashland Family Health Center at 5139 S. Ashland Ave. in Chicago's Englewood community. The health center is committed to providing community-based, patient-centered preventive and primary health care.
The ACCESS Center for Discovery and Learning – the first-ever National Institutes of Health (NIH)-funded research center for a federally-qualified health center network – focuses on research that engages the community and helps reduce racial and ethnic disparities in health care. The recent program on lead exposure was the inaugural event at the recently-opened center.
ACCESS is one of only a few non-academic organizations to receive one of NIH's community-based research grants. ACCESS' goal is to build partnerships in the community and help educate people about the need to be active participants in their own health care. ACCESS and its partners will focus on studies that are important to ACCESS' patients and surrounding communities.
The growing concern around Chicago's aging water pipe infrastructure is shedding light on the serious health threats posed by lead exposure. Recent problems with the Flint, MI, water system also have been well documented.
Like many other large cities, Chicago's water pipes and housing structures were once built using lead materials. As these service pipes age and corrode, significant amounts of lead can contaminate the water supply. Older homes are particularly at risk for lead exposure, as approximately 75 percent of Illinois homes built before 1978 contain traces of lead-based paint, another common source of lead exposure. Many of the patients who call ACCESS their medical home live in communities where the homes and infrastructures are old and can pose a lead exposure threat.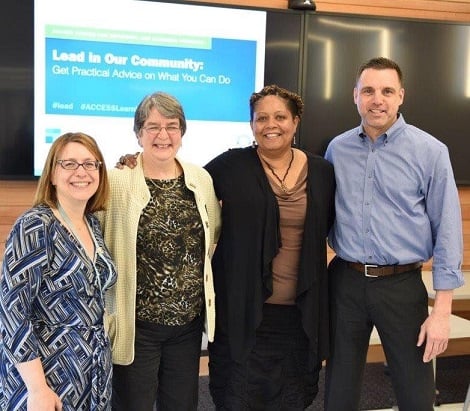 Helen Binns, M.D., M.P.H., Feinberg School of Medicine, Northwestern University, and Dani Lazar, AM, DrPH(c), ACCESS Director of Research
The three speakers at the ACCESS forum introduced the audience to the following information:
Sources of lead exposure
Lead is a soft, malleable metal that has been used in various items since the Ancient Roman era because of its resistance to corrosion.
"Lead is used for paint, pipes, gasoline, hair dyes, cans, but the levels in paint have been reduced," said Dr. Helen Binns of Northwestern University's Feinberg School of Medicine.
The most common sources of lead exposure are tainted water, lead-based paint, and lead-contaminated dust. Other common sources include soil, cosmetics, toys, jewelry and pottery.
Lead exposure occurs through either inhalation or ingestion of a contaminated source. The most common exposure to lead in children is through eating paint chips and breathing contaminated dust from deteriorated or disturbed lead-based paint in homes built before 1978.
"Children spend one to two hours a day on the floor," said Dr. Binns, explaining the heightened exposure risk among children. "They learn by exploring, tasting and touching."
Health implications of lead exposure
Lead poisoning affects the development and function of the central nervous system, and is the No. 1 cause of environmental illness to children. Even low levels of lead in blood have been shown to affect IQ, ability to pay attention and academic achievement, Dr. Binns said.
Lead poisoning usually has no symptoms, so irreversible damage can be done to the brain without any knowledge or awareness of it. "Lead causes brain damage, but the effects on an individual child are not predictable," said Dr. Binns.
Ways to protect from and prevent lead exposure
Over the past 35 years, the number of children with lead poisoning has declined thanks to the removal of lead in paint, pipes and gasoline. The best way to protect children from lead exposure is by removing lead-tainted objects before they come in contact with the items.
"Childhood lead poisoning is a serious but preventable health condition," said Dr. Pamela Phoenix of Imagine Englewood If.
The Chicago Department of Public Health is committed to addressing the disparities that persist in lead exposure. Through a partnership with the Imagine Englewood If organization, new initiatives have been developed to reduce the incidence of lead exposure in Chicago neighborhoods. These initiatives include community education, water testing, outreach to hardware stores and preventive inspections.
Healthy, nutritious meals can help defend the body from lead exposure. Healthy iron levels help prevent absorption of lead into the blood stream.
Community resources
Home repairs to reduce lead exposure can be costly. However, there are resources that are available to community members.
"Many older homes in Chicago still have lead-based windows, which can be costly to replace," said Dr. Cortland Lohff, Medical Director for the Chicago Department of Public Health. "But there are grants available for replacement."
The Chicago Lead Poisoning Prevention Program aims to prevent and reduce lead exposure in communities across the city. The program works to:
Monitor lead poisoning;
Educate the general public and health care providers about lead and lead poisoning;
Inspect homes of children with lead poisoning;
Assist property owners to ensure lead-based paint hazards are fixed;
Provide grants to property owners to fix lead-based paint hazard; and
Assist children poisoned by lead by conducting assessments, providing education and referring to services.
"We do have lead problems in Chicago," said ACCESS' Director of Research Lazar. "Lead contamination in pipes and homes across the city affects the community at large," she said. "ACCESS wants to help members of the community avoid lead exposure and seek help, if they believe they have been exposed."
As concerns loom about lead exposure and other important health issues, ACCESS will continue to be on the front lines of community health care. By spearheading initiatives that educate community residents to be proactive about their health, ACCESS wants to help create healthier communities.
About Access Community Health Network:
Designated as a Level 3 patient-centered medical home by the National Committee for Quality Assurance (NCQA), ACCESS offers patient-centered, preventive and primary care services to more than 180,000 patients annually. Through its investment in technology to further improve patient care and engagement, ACCESS has also been recognized by HIMMS at Stage 6 for its adoption of its electronic health record. With 36 Joint Commission-accredited community health centers located throughout Chicago and the surrounding suburbs, ACCESS is also one of the largest networks of community health centers in the nation. For more information, visit: www.achn.net.