ACCESS and Chicago State University team up for innovative community health Pharm.D. program
April 9, 2015
With similar missions to impact the health and wellness of our most diverse, underserved communities, Access Community Health Network (ACCESS) and Chicago State University (CSU) are collaborating on a new Pharm.D. experiential education program that trains tomorrow's pharmacists to work in three of ACCESS' community-based health centers. As one of the nation's largest networks of federally-qualified health centers (FQHCs), ACCESS is always looking for new ways to impact the health and welfare of the communities it serves. As CSU's College of Pharmacy (COP) is the most diverse college of pharmacy in the state of Illinois, ACCESS and CSU are both strongly invested in tackling some of the ethnic and racial disparities that exist within these communities.
Dolores Nobles-Knight, Pharm.D., MPH, Associate Professor and Chair, Department of Pharmacy Practice at Chicago State University, is clear on the value the program can bring. "Our program is progressive. We feel that pharmacists should be an integral part of community health care. For too long, pharmacists have been an afterthought."
ACCESS' Chief Executive Officer Donna Thompson first saw the power of pharmacy integration when ACCESS began partnering with national pharmacy leader, Walgreens, on four co-locations less than four years ago. "At ACCESS, we are committed to integrating the right resources into our care teams to ensure that our patients have the best support possible," said Thompson. "Working with partners that truly understand the challenges our patients face and that are actively working with us on solutions to positively impact the health and wellness of the communities we serve is powerful. It's truly transforming ​how we approach and deliver care each day."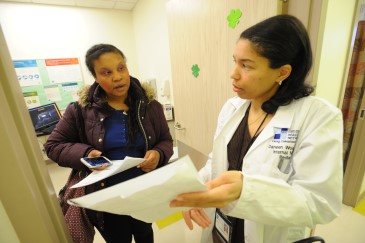 Miriam Mobley Smith, Pharm.D., FASHP, Dean and Professor of the College of Pharmacy at CSU, is proud of how the school has shaped the program with its strong mission. And the program has already won accolades with four students earning Schweitzer Fellowships in recent years. "It is not only about speaking to the mission but also being committed to performing it daily. It is important that we improve the health and well-being of the community as well as educate community members to be self-empowering," Dr. Mobley Smith said. But patients aren't the only ones being empowered. "We want our students to feel ownership with working in the communities."
Heather Fields, Pharm.D., MPH, Assistant Clinical Professor at the College of Pharmacy, has worked with FQHCs before, and she and the students believe that the partnership with ACCESS goes well beyond helping Pharm.D. students fulfill their academic requirements. "My passion is working with patients from minority and underserved backgrounds, and my experience has taught me that this patient population is often dealing with a variety of complex issues," Dr. Fields said.
Dr. Fields noted the invaluable benefit of having pharmacists (and pharmacies) within the community health setting. "Medication-related issues can be solved quickly since the pharmacist has easy access to the prescribing physician. This can also help build better pharmacist-provider relationships," she said. "In addition, the close proximity can improve medication adherence, and the pharmacist is available to provide on-the-spot medication education and counseling."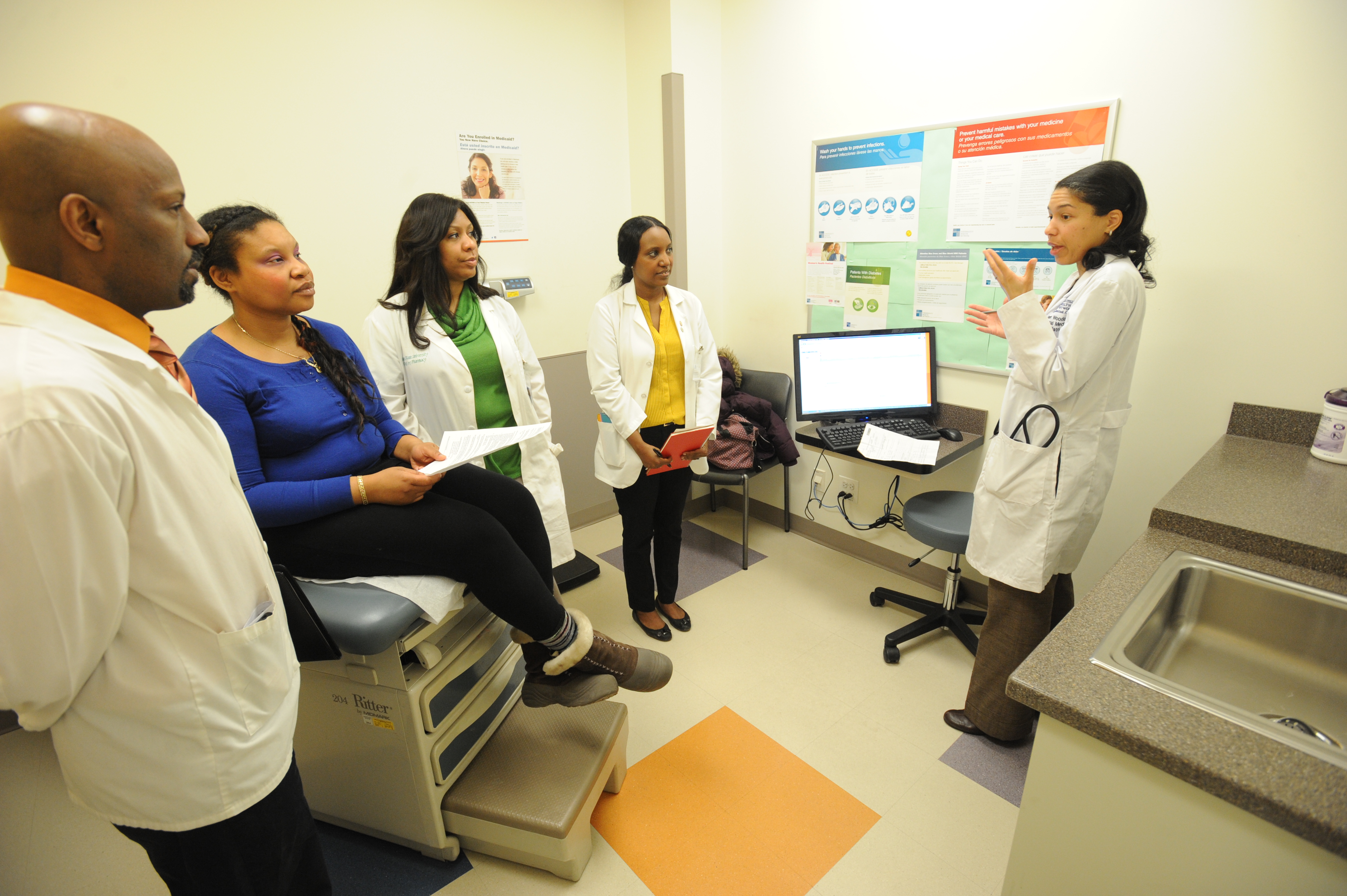 The students and existing clinical team build a coordinated care program, where students participate in daily huddles with lead physicians, while making drug therapy recommendations and helping to resolve patient issues.
This team approach is one of the hallmarks of the program, according to Dr. Mobley Smith, who recognizes the challenge that people in urban communities face. "Half of the battle is whether patients fill and continue to refill their prescriptions," she said. "Team-based care will make a huge difference in the health care delivery system."
Patient counseling is key. CSU student pharmacist Tihitina Yewondwosen is part of the fourth Pharm.D. program class that is graduating in May, and she has always wanted to be a pharmacist. "I came to Chicago for the program, and my father is a pharmacist in Addis Abba, Ethiopia," she said. "For three years, I have been learning the patient aspect and now I am applying what I learn while helping patients adhere to their medication regimens." Yewondwosen is glad to be able to empower patients. "It is important to teach patients about interactions and to make them an active part in the process."
ACCESS physicians recognize the benefit to patients, as well. "The CSU students offer valuable information, so that patients don't miss out on any education regarding their medications," said Daneen Woodard, M.D., ACCESS Regional Medical Director and lead physician at ACCESS Ashland Family Health Center. ACCESS Madison Family Health Center physician Teresa Cvengros, M.D., added, "The students are helpful in finding options for patients to make their medications less expensive, as well as finding out what medications their insurance would cover and helping with prior authorization if needed." To have this type of counseling all take place within the health center at the time of the patient's visit is critical, and it positively supports patients and their ability to adhere to their care plan and take the right medications at the right time.
ACCESS and Chicago State University are continually in talks to further expand the program and find new innovative ways to collaborate and delve deeper into improving the link between pharmacists and clinicians.
Photo 1: Daneen Woodard, M.D., reviews information with ACCESS Ashland Family Health Center patient Grace Robinson.
Photo 2: CSU pharmacy students Michael Rassa, left, Tihitina Yewondwosen, 2nd from right, ACCESS patient Grace Robinson and Heather Fields, Pharm.D., MPH, Asst. Clinical Professor at CSU-COP, listen as Daneen Woodard, M.D., ACCESS Regional Medical Director, makes a point during patient visit at ACCESS Ashland Family Health Center. (Photos by Warren Skalski).
About Access Community Health Network: With 35 Joint Commission-accredited community health centers located throughout Chicago and the surrounding suburbs, ACCESS is one of the largest networks of community health centers in the nation. ACCESS offers preventive and primary care services to more than 175,000 patients annually. Follow us on Twitter at http://twitter.com/ACCESSHealth like us on Facebook athttp://www.facebook.com/ACCESSCommunityHealth or visit www.achn.net.
About Chicago State University: Chicago State University was founded in 1867 with just 62 students enrolled in its first year. Today it is a nationally-accredited university with five colleges- Health Sciences, Arts and Science, Business, Education, and Pharmacy – offering 36 undergraduate and 25 graduate degree-granting programs. In addition, CSU has a Division of Continuing Education and Non-Traditional Programs that reach out to the community with extension courses, distance learning and not-for-credit programs. Consistently evolving to reflect state-of-the-art trends in higher education, Chicago State University prepares students for success in the twenty-first century. For more information, please visit www.csu.edu.