ACCESS Receives CDC Grant for its Sistas In The Know Program
By Elaine Hegwood Bowen, M.S.J., ACCESS Media Relations Specialist
March 31, 2016
With recent alarming statistics revealing that many African-American women on the South and West sides of Chicago are unaware of their HIV status, as well as statistics that show this segment is contracting the disease at higher rates than other women, Access Community Health Network is pleased to continue its outreach around HIV awareness and prevention. ACCESS recently received a grant from the U.S. Centers for Disease Control and Prevention (CDC) to continue its quality services around HIV education and testing and reducing high-risk behaviors for vulnerable female populations.
The grant will support ACCESS' Sistas in the Know program, which is a social skills training intervention program that works with women in targeted areas to deliver strategic, culturally competent, community-based programming to diminish the stigma around HIV testing.​
One particular goal of the program is to find newly identified HIV-positive women who were previously unaware of their status and link them into HIV primary and specialty care services at an ACCESS health center. Also, the program will link high-risk, African-American women to medical care by referring them to evidence-based interventions to help them make informed decisions about their health.
According to the Chicago Department of Public Health, the latest report citing 2013 data shows that more than 74 percent of new HIV diagnoses were among heterosexual African-American women. ACCESS' Sistas in the Know program follows in the tradition of previous programs such as SISTA, or Sisters Informing Sisters About Topics on AIDS, that work with women to identify and combat high-risk behaviors. These behaviors could include absence of condom use, intravenous drug use, homelessness and prostitution.​
ACCESS will reach out to women in Humboldt Park, Austin, West and East Garfield Park, North Lawndale, Douglas, Fuller Park, Grand Boulevard, Washington Park, Englewood and West Englewood to promote the program, and case management and adherence support will also be offered. Women who are identified as high-risk will be offered prevention and support services that have been proven to reduce HIV-related disparities.
"ACCESS' counseling, testing and referral program involves community outreach with HIV quick testing, and if a woman tests positive, she is given an appointment to connect her with an early intervention specialist," said Monica Longmire, ACCESS Manager of Risk and Prevention Services. "Depending on whether a woman is high-risk, HIV-negative or HIV-positive, she can either participate in peer-led group sessions or four group sessions that our initiated by ACCESS case managers."
HIV negative women will be referred to ACCESS' Voices/VOCES program, which engages evidence-based, high-impact prevention intervention. This intervention is a single-session, group-level prevention program that includes a group discussion and education session to encourage condom use and improves condom negotiation skills.
The goal is to reach women where they are most vulnerable and direct them to prevention and/or intervention services that are going to get them back on a productive track. "We use methods to encourage women to change their high-risk behaviors, improve coping skills, and empower them to take care of their own health as a way to prevent STD transmission and HIV re-infection," Longmire added.
ACCESS was one of only five organizations in the state of Illinois to receive this funding, which was awarded through the CDC's Division of HIV/AIDS Prevention (DHAP). For more information about the program, call Monica Longmire at 708.239.8063.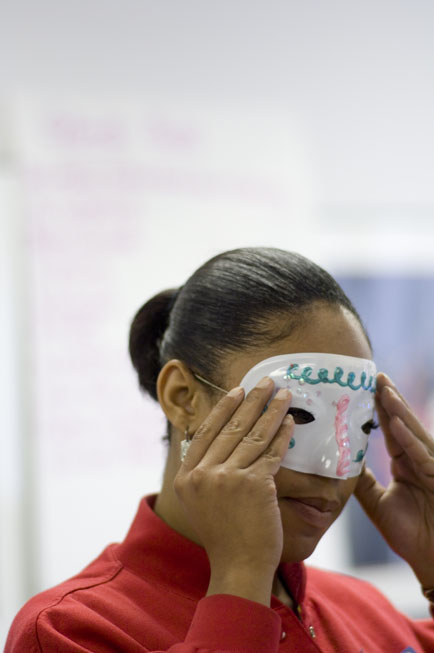 This mask represented a part of the "empowerment" component of the SISTA—or Sisters Informing Sisters About Topics on AIDS—program, a previous ACCESS high-risk intervention program. Each participant in that program wore a mask and removed it, while sharing what area in her life she was now taking control over, i.e., fear, negativity, insecurity, addiction.