Donna Thompson, R.N., M.S.
Chief Executive Officer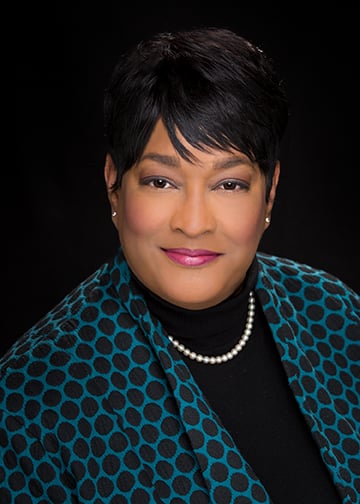 For more than 30 years, Donna Thompson has served on the front lines of community health care. As the health system's CEO since 2004, Donna has driven Access Community Health Network (ACCESS) to evolve and reimagine its care delivery model to expand access and deliver comprehensive wraparound services and programs to effectively meet the needs of some of the Chicago area's most underserved, vulnerable communities.
Committed to Health Equity
Through her steadfast leadership, Donna has led ACCESS to become one of the nation's largest networks of federally qualified health centers (FQHCs). Anchored by a strong mission, ACCESS provides an integrative health care home for more than 180,000 patients each year through 35 health center locations across Cook and DuPage counties.
When Donna first joined ACCESS as its Chief Operating Officer in 1995, she was very familiar with the difficulties that patients faced due to the lack of access to high quality primary and preventive care. As a pediatric nurse at Michael Reese Hospital, which was once Chicago's largest research and teaching hospital before it closed in 2009, Donna saw firsthand the devastating impact that one's lack of access to quality health care can have on their quality of life, and ultimately, their lifespan.
Strongly believing in the need to address the total health of ACCESS' vulnerable patient population, Donna drove the health system to adopt an integrated care team model that includes embedded behavioral health services and an enhanced focus on care coordination that goes 'beyond the walls' while embedding resources that address food, transportation and other critical social determinants of health. Understanding the complexities of the opioid crisis, Donna has also led the organization to develop network-wide Medication Assisted Recovery (MAR) services, which take a comprehensive approach to drug addiction treatment.
A critical factor in ACCESS' ability to address the complex needs of its patients is grounded in Donna's ability to build strong collaborative partnerships with health system partners, grassroots community organizations, faith-based institutions, and local civic leaders. Most recently, she collaborated with area providers to receive one of the State of Illinois' transformation grants to improve health equity on the West Side of Chicago, an area of the city that has long lacked investment and critical health resources.
Keeping the focus on providing solutions to health inequities, ACCESS has also invested in long-term partnerships for teaching and research. In 2015, ACCESS opened its NIH-funded ACCESS Center for Discovery and Learning in Chicago's Englewood/Back of the Yards community with the goal of bringing meaningful community-led research directly to those most in need. The Center has been a convener to share best practices in public health, educate community residents on critical health issues, and through the pandemic has served as one of ACCESS' largest community COVID vaccination sites. Through its research department, ACCESS has also invested in landmark studies and evaluation work on hypertension, patient engagement through shared decision making, and most recently, COVID-19 vaccine hesitancy.
Understanding the important role of diversity and inclusion in community health, Donna has also intentionally built a diverse senior leadership team to reflect the multicultural identity of ACCESS' communities and workforce. At the height of the pandemic when Chicago experienced racial unrest, she led ACCESS to join the City of Chicago's racial health equity taskforce and has challenged her leadership team to identify and drive solutions to address systemic, institutional racism and implicit bias that exists both within and beyond ACCESS' walls.
Championing Early Cancer Detection
In 2002, Donna brought together more than 1,400 women, elected officials, and faith leaders from across Illinois to successfully advocate for breast and cervical cancer services, which resulted in dedicated state funding for free and low-cost screenings. Then, on Mother's Day in 2007, Donna launched ACCESS' faith-based breast cancer awareness campaign, Pin-A-Sister® /Examínate Comadre®, to educate and reduce health disparities and decrease the number of African-American and Hispanic women who develop breast cancer. Through strategic investments in community partnerships, media outlets, and grassroots outreach, to date the campaign has reached millions of women locally, nationally, and internationally.
Appointments and Acknowledgements
Donna holds a bachelor of science degree and a master's degree of science in nursing administration from DePaul University. Donna was named a Robert Wood Johnson Foundation Executive Nurse Fellow in 2003 and is also a 2010 graduate of the Kellogg School of Management's CEO Perspectives program. Throughout her career, Donna has received several awards and recognitions including, the 2015 National Medical Fellowship Leadership in Healthcare Award, Crain's 2019 Most Notable Women in Healthcare, Habilitative System's 2021 Race and Health Equity Award, the National Black Nurses Association's 2021 Notable Nurses and Champions, and Crain's 2022 Notable Executives of Color in Health Care.
Currently, Donna holds the following Board memberships: DePaul University Board Trustee, The DuPage Health Coalition in DuPage County, Il.; West Side Health Equity Collaborative; Coppin Food Pantry and AccentCare, a national health leader in post-acute care based in Texas. Previously, Donna also served on the Boards of The Chicago Network (including serving as Board Chair); Children's Home and Aid; and the National Public Housing Museum. Other recent civic engagements include serving on the advisory board of Ardmore Roderick (one of the nation's top five Black-owned infrastructure and construction engineering firms); as an advisor and mentor for the Chicago Urban League Impact Program; and as a past member of the health care committee for the Economic Club of Chicago.