Tariq Butt, M.D.
Vice President of Health Affairs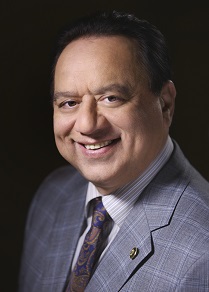 Since ACCESS was first founded in 1991, Dr. Butt has been on the frontlines of community-based health care delivery as a board-certified family physician, administrator, and advocate for the underserved.
Since 2013, Dr. Butt has served as ACCESS' Vice President of Health Affairs leading critical government relations initiatives to support ACCESS' mission and advocate for vulnerable patient populations. Dr. Butt's commitment to quality health care in Illinois is evident by his leadership on influential health policy and physician committees, which includes being the President of the Chicago Medical Society, a member of the Government Affairs Committee for the Illinois State Medical Society, and a clinical consultant for the Bureau of Medicaid Integrity.
Strong Civic Leadership
Dr. Butt has been an active member of Chicago's civic and philanthropic communities for decades, serving on several foundations including the Otho S.A. Sprague Memorial, Portes Foundation, and Snow City Arts Foundation. In addition to his passion for health care, Dr. Butt is champion for public education serving for more than 20 years on the Chicago Board of Education and is a former director of the Illinois Association of School Boards.
Teacher and Mentor
Dr. Butt is known for mentoring hundreds of students throughout his 30 plus years in medicine. Dr. Butt has served as a preceptor for the Mount Sinai Family Medicine Residency Program – one of the first of its kind in the Midwest to be based in a community health center​ setting. He also holds teaching appointments at the University of Illinois Medical College, Rush University Medical School (Chicago) and the University of Southern California (Los Angeles).
Global Diplomat for Health Care Issues
Dr. Butt's strong ability to connect people and leverage resources have gained him international prestige as a global health thought leader and visionary with a strong commitment to addressing health disparities. Through his decades long involvement in Sister Cities International, he has extensive experience building international partnerships to develop systems of care for medically underserved communities. He has worked with government leaders and key officials across the globe from Karachi to Dubai to Lahore and Kiev. His work has resulted in the development of a liver transplant center, improved oral health care practices, improved systems of care on a global level – including through the COVID-19 pandemic to effectively plan and deploy the appropriate emergency response and distribution of critical resources from vaccines and tests to PPE supplies.
A Voice in the Asian American Community
Dr. Butt is a prominent voice for both the local and international Asian American community. He is the Founding Member of the Asian American Institute and Chair of the Chicago Lahore Committee of the Chicago Sister Cities International Program. Dr. Butt is often invited by government leaders and senior officials to represent the Asian American community on city, county, and state commissions.
Other Acknowledgements
Dr. Butt has received many prestigious awards including: The 2003 Loretta Lacey Advocacy Award for his work in child advocacy; The 2002 Horatio Alger Award; 2002 Asian American Hall of Fame Inductee; The 1995 Pan-Asian American Award; 2015 Volunteer Award from the Chicago Sister Cities International Program; and most recently, the 2021 Lifetime Achievement Award from the Chicago Medical Society and the 2021 Healthcare Administrator of the Year Award presented by U.S. Congressman Danny K. Davis.