Tips for Eating Healthy During the Holidays
December 12, 2018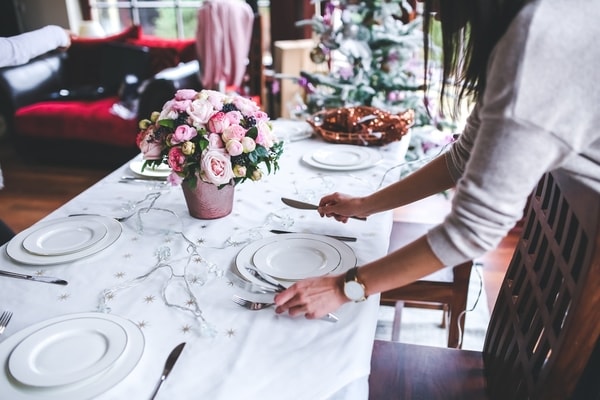 Some of the most cherished moments and memories of the holidays involve food. With favorites like cookies, candy canes, eggnog and so much more, it can be easy to overindulge this season. It's no secret that watching what you eat during the holiday season is important for your health and wellness. Plus, finding time for healthy foods can keep you energized and positive through the hustle and bustle of the season. Below are some simple ways to eat healthy this holiday:
Prepare Healthier Options
If you are cooking or bringing food to gatherings, look for recipes or dishes that are both tasty and healthy. Try to replace unhealthy ingredients with low fat, low sugar and low sodium substitutes. For example, try to cook with lean cuts of meat vs. processed meats. Instead of putting out cookies for guests, try fresh fruit. For healthy holiday recipe ideas, try here.

Make Good Choices
While everyone is tempted with delicious treats during the holidays, it's important not to skip the healthy food. Load up first with fruit and veggies. Portion sizes are also crucial. Don't feel you need to fill every inch of your plate. In fact, try using smaller plates, which can be an easy trick to help you eat less.

Drink in Moderation
If you're of legal age and attending holiday parties with alcohol, limit your intake. Having a few drinks can quickly add up in calories. Also, know both the alcohol content and calories of your beverage of choice. For example, an average beer has around 150 calories, a glass of wine has around 123 calories, and spiked eggnog can contain about 170 calories. Try to limit what you drink and make an effort to have a few glasses of water in between.

Pace Yourself and Plan Ahead
When you know you have a holiday party coming up, eat healthy snacks throughout the day so you are not starving when you arrive at the event. This will help you with portion control when selecting food items, especially at a buffet-style meal. Also, wait 10 minutes between your last bite and when you might get that second round or helping. It takes time before your stomach signals to your brain that you are full.

Access Community Health Network (ACCESS)
If you have questions about your diet or health, ACCESS is here to support you. We can help you plan a balanced diet and have a healthy start to your new year. Schedule an appointment today.