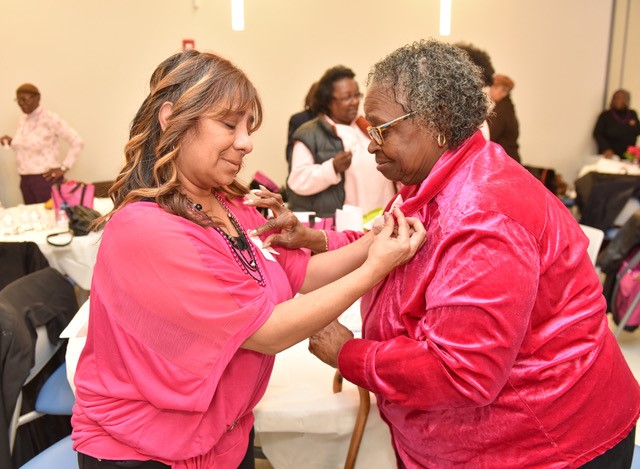 Pin-A-Sister®/ Examínate Comadre®
Pin-A-Sister®/Examínate Comadre is a faith-based, breast cancer outreach and awareness initiative by ACCESS. Our mission is to educate and reduce health disparities and decrease the number of African-American and Hispanic women who develop breast cancer.
For more information on how you can host your own Pin-A-Sister®/Examínate Comadre® pinning ceremony event, contact Rachel Nagengast at 312.526.2374 or Rachel.Nagengast@achn.net.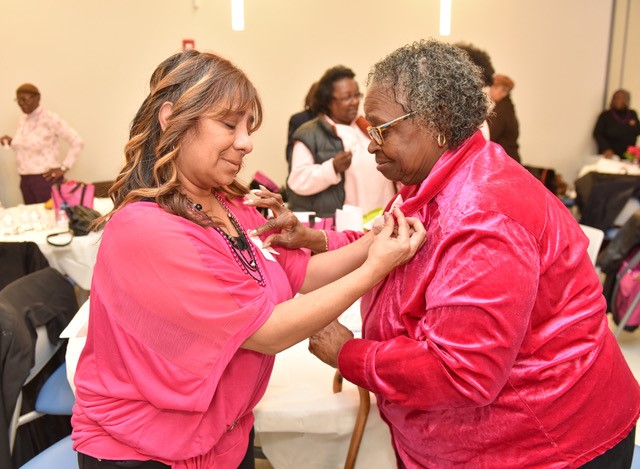 "Participants of our Pin-A-Sister/Examínate Comadre pinning ceremonies have shared that testimonies of survival from early detection encouraged them to get their annual mammogram. Participants have also mentioned that the pinning of another woman has helped hold them accountable by ensuring that they get checked."
– Latonya L. Jarrett, First Lady, Blackwell-Isreal Samuel A.M.E. Zion Church
Hear from One of Our Supporters and Survivors
"I think this program has really impacted the women in our church, because they look forward to it every year. It seems like more women are coming in, and they tell me, 'Oh, I got my mammogram.' That's what's important. Early detection is the key, and that's the key to survival and better treatment options." – Longtime Pin-A-Sister®/Examínate Comadre® supporter and breast cancer survivor Deaconess Lillouise Lewis, New Friendship Baptist Church